Or Anne Lamott? Or Stephen King? Or Seneca?
I'll let you in on a secret … learning their style isn't just about reading their books.
There's a trick that students of writing and literature have been implementing for centuries that will teach you EXACTLY how your favorite writers and authors not only write well—but also consistently.
Without having to take university level classes.
In fact, you can probably do it in less than an hour a day.
---

---
How To Become a Master Writer?
Become a Master Writer is an eight-week self-study course, delivered direct to your inbox, that teaches you how to become a better writer using the technique that some of the most famous writers, thinkers, and authors have used for centuries—copywork.
Copywork is exactly what it sounds like. You find some writing that you like, or can learn from, and sit down to copy it by hand (word for word, punctuation mark for punctuation mark, space for space).
I know, you're probably thinking, "How on earth would I ever learn to become a better, more consistent writer by copying someone else's work?" Well, you'd be joining a pretty esteemed group of famous writers and thinkers who've used this exact method to develop their craft ...
---
Master Writers Who Copied
Hunter S. Thompson copied F. Scott Fitzgerald's The Great Gatsby and Ernest Hemingway's For Whom the Bell Tolls so he could feel what it was like to write a classic novel

Virgil copied Homer (and Plato copied Socrates … copying your teacher's writing was one of the only ways to get your essays circulated in Ancient Rome and Greece)

Stephen King notes in his writing theory book On Writing that he copied releases of his favorite horror short stories and graphic novels as a child to teach himself how the authors wrote

Benjamin Franklin copied interesting newspaper articles as a teen to learn how to write for publication

Buddhist monks handwrite ancient sutras and aphorisms again and again and again until the prose is etched in their mind
How Will This Improve Your Writing Skills?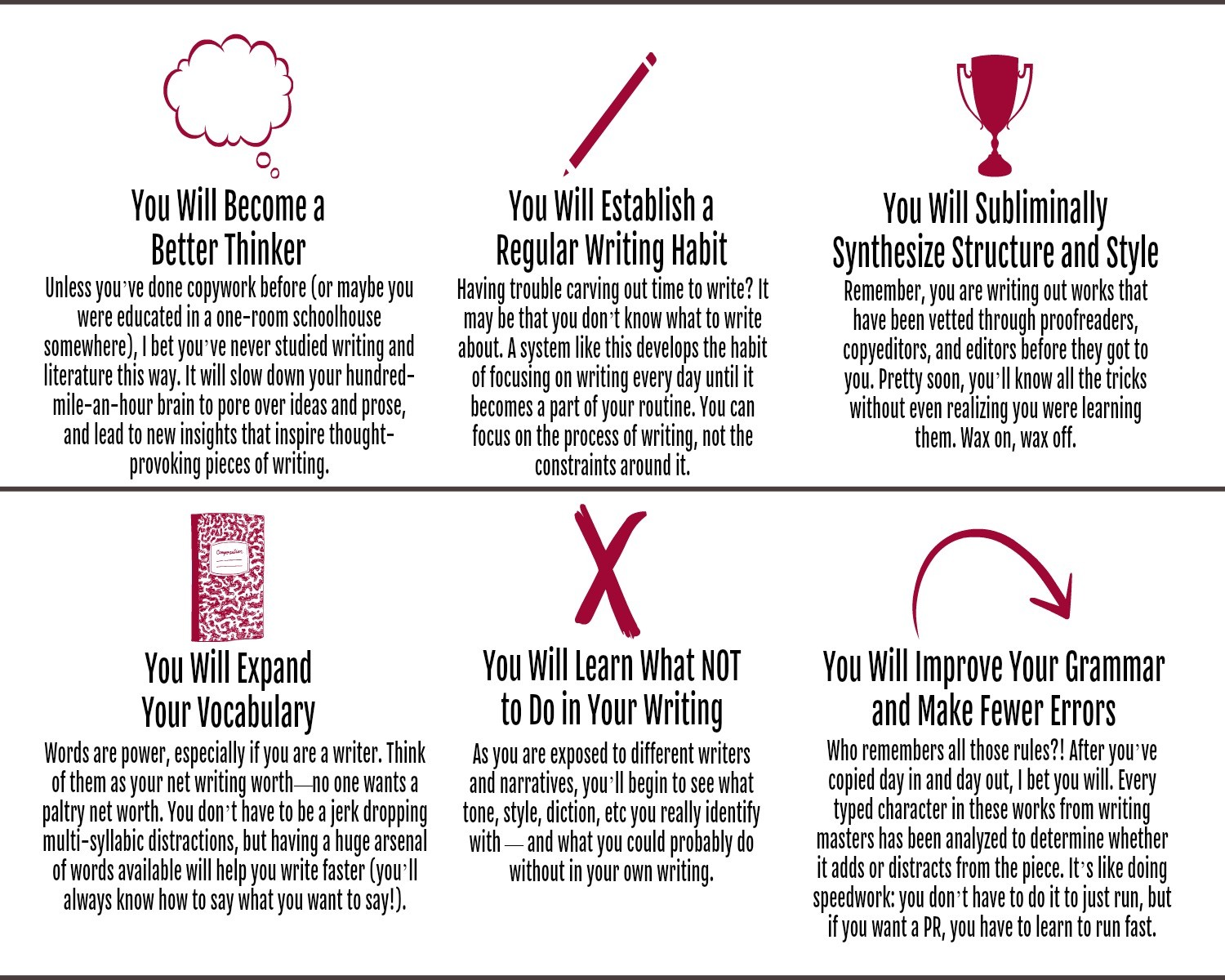 But What Exactly Do You Get?
Every week, you'll get five copywork excerpts.
Once a week, you'll receive a writing prompt to apply what you've learned.
We'll also include links in every email to additional articles, essays, books, and resources we've curated so you can dig deeper into the week's theme (if you choose).
The excerpts will come from different styles, structures, authors, tones, ideologies, genres, and eras to help you practice and discover your own writing voice.



Each week will cover an overall theme or concept in writing:
Week One - Learning and Reading
Week Two - Language and Words
Week Three - Structure and Flow
Week Four - Concept and Premise
Week Five - Characters and Heroes
Week Six - Settings and Surroundings
Week Seven - Themes and (Life) Lessons
Week Eight - Voice and Style
By the time you hit your freewriting exercise, you will not only have done focused copywork, but you will also have gotten a daily lesson on what to pay attention to as you write. A compact little master class in writing...from the masters!
---
How It Works
1. Each morning you'll receive a new lesson, that includes a copywork excerpt or writing/learning prompt, along with an explanation for what to focus on as you do the work.
2. Print it out, download it to a mobile device, or view it right on your screen.
3. Grab your handy notebook, scrap paper, legal pad, etc., and start writing.
4. If you have time (or want to save it for later), click through the additional resources and materials we've curated for you to dig deeper into the lesson. This will be especially helpful for those feeling super ambitious or committed to becoming master writers.
You can do most (if not all) of the lesson, every day, in less than 60 minutes.




---
How Can You Actually Apply This to Your Career and Business?
Welcome to the resurgence of the idea of "Storytelling" as a foundation stone to all forms of writing.
This, of course, is because people would much rather learn their lessons from someone's engaging and fascinating story than from a boring blog post that is barely better than a Powerpoint presentation.
But here's the truth you don't want to hear: many modern writers (possibly including you) are terrible at telling stories.
You've forgotten, through years of academic essays, emails and professional memos, and nonfiction best-sellers how to sit down and captivate your audience through the powers of written wit.
The writing we've hand-chosen for this course stands the test of time. It includes orations from Stoic and classic philosophers, Renaissance drama, Transcendental essays, and prize-winning fiction.
Some of the best narrative artistry available, without having to search it all out and figure out what you are supposed to learn from it.



---
Why Wait?

Do you find yourself saying:

You can buy Become a Master Writer right now for only $199 and never worry about thinking or saying anything like this again.
As the saying goes, copying may be the highest form of flattery, but you'll see that it's also the quickest way to become a great writer yourself.